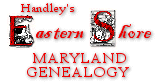 Guest Book
Sign In, Please . . .

Thanks for taking a moment to let me know you were here! When you're done, just click *once* on the "Sign Me In" button at the bottom of the page. If you make a mistake or want to change something, click on the "Start Over" button. Please be sure to include your e-mail address.
I hope you enjoy your visit to Handley's Eastern Shore Maryland Genealogy Project. Please stop in often to see what's new!